This page is about Thailand - the food, the people, the customs and the land. It is here to give people a taster in the hope that they will visit sometime in the future and experience the legendary hospitality of the 'Land of Smiles'.
Thailand is a large country with a diverse population - from the many Hill Tribe peoples in the north to the people of mixed Malay/Thai nationality in the south. My wife, Ya, is from the north-east and her home town is near the border with Laos.
As you can see from the map below, Thailand is bordered to the west and north by Burma (Myanmar), to the north and east by Laos, to the east by Cambodia and to the south by Malaysia. Despite the many problems encountered by the countries to the west, north and east Thailand is a stable country and, provided you are relatively careful, safe to travel around - although every country has its pitfalls.
Overview The People Accommodation Food Language
Getting Around Sight Seeing Entertainment Shopping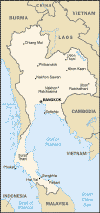 Click on the image for a larger view.
Thailand generally has something for everyone - and whatever it is it's normally cheaper than in your own country; certainly if you come from Europe, North America or the Middle East.
Elements of the Thai government are currently going through a crisis as to what particular type of tourist they would like to see in their country. On the one hand there are those who would like to see wealthy families with 2.4 children visiting the temples and other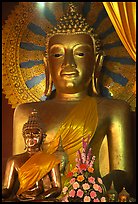 cultural sites then retiring to bed for the night at 9.30. On the other hand there are the more sensible politicians who realise that a balance must be met to accommodate all tourists from cozy families to the backpackers who have been the mainstay of the Thai tourist economy for the last 30+ years.
One plan was to close down the bars and entertainment venues at midnight but this would have driven away tourists in their droves and lead to massive unemployment - not only in the bars but also the people that supply the bars, the people that supply the accommodation, the people that supply the transport, the people that operate the restaurants and grow/supply the food, the people that make, supply and sell tourist gifts....and the list goes on (and on and on). It is interesting to note that squeaky-clean Singapore now has 24-hour bars and open prostitution.
For information on Thailand, why not begin your tour at the excellent Go Thailand site or take a look at the tips and links below. The tips are taken from my own knowledge and represent my personal feelings (and may therefore not fit in with your thoughts or philosophy) - but then I have been visiting Thailand for the last 24 years and I have a Thai wife - so I might just actually know a little more than you!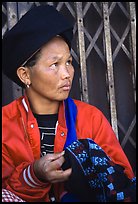 Thai people are friendly - hence the title often attributed to Thailand 'The Land of Smiles'. They are generally courteous, well-mannered and respectful (unlike many of their counterparts from the West). The people, and the level of service they provide, are part of what draws millions of tourists to the country every year. Even at the smallest roadside stalls you are generally greeted with a warm smile and given the attention it is difficult to find in some of the better restaurants and shops in the West.
There are a variety of ethnic peoples throughout Thailand and this will be very evident if you travel to the northern border regions around Chiang Mai where you find Hmong, Karen, and other types selling ethnic goods. There are some very good trekking tours that will take you to their villages so that you can experience their life for yourself. An excellent site to visit is that of The Karen Hilltribes Trust - I strongly urge you to support them.
Please be aware that not all the people are trustworthy (just as in your own country) and, as a foreigner in a strange land you are open to various scams. The following tips may help you to hang on to your money and valuables:
| | |
| --- | --- |
| | Only carry as much money with you as you need to. Leave your valuables (credit cards, passport, spare money, etc.) in the hotel safe. Most hotels, guest houses and resorts have safe boxes and will look after your valuables for you. Don't flash huge wads of money around either. The mere fact that you are wealthy enough to travel to Thailand on holiday puts you in an income bracket well above the average Thai person. |
| | Beware of pickpockets in the larger cities. |
| | Beware of youths on motor bikes who may well zoom past and snatch your shoulder bag or handbag (particularly in Pattaya). |
| | Beware of overfriendly people on long-distance buses and trains. It has been known for people to be drugged (by accepting the offer of a sweet, biscuit, drink, etc.) and to wake up to find their belongings missing. |
| | STAY AWAY FROM DRUGS! Possession of drugs carries a (not so) healthy term in prison or payment of huge amounts of money to avoid it. Trafficking in drugs carries the death penalty (usually commuted to a life sentence if guilt is admitted). If you are still tempted to try your hand with the drugs scene try reading 'Forget You Had a Daughter' by Sandra Gregory. (Read it anyway. An excellent, but harrowing, true story). |
Having said all of the above, nothing of this has ever happened to me and I have always felt perfectly safe when staying in Thailand - certainly more safe than if I was in London, Paris or New York. However, there is always somebody who met a person who's friend knew somebody.....etc. and you do read about these things in the papers.
Accommodation ranges from cheap backpacker hotels and guesthouses to some of the best hotels and resorts to be found anywhere in the world; something to fit everybody's pocket, in fact.
NOTE: Since the release of the film 'The Beach', Khao San Road (Banglampoo area, Bangkok) has become a tourist attraction in its own right. It used to be the backpacker's haven but is now beginning to move up market. There are still plenty of cheap(ish) places
around the Banglampoo area though.
My backpacking days are over and I prefer to stay in better accommodation these days. It's interesting to note that my wife and I can stay in a 4 star hotel in Bangkok (inc. full buffet breakfast) for much less than we paid for a simple bed and breakfast place in a small town in the north of England.
Around the country, accommodation varies in price, style and amenities. It is still very good value though and certainly a cut above what you would find in (say) Europe.
There are some excellent deals to be had over the internet. Check out the accommodation links (above-left) where you find better prices for 3 to 5 star hotels than if you walk in off the street - and there are often airport transfers thrown in as well (if you are flying in to Bangkok, Chiang Mai, Phuket or Koh Samui). Of course, this won't help you if you are going off the beaten track - then you're on your own.
Thailand caters for virtually all tastes - particularly in the larger cities and tourist areas. Besides the multiplicity of Thai food options you will usually find French, German, Italian, British and Indian fare. Pattaya has a number of Russian restaurants while halal Muslim food can be found in Bangkok, Pattaya, Chiang Mai and the Muslim areas of the south.
A plethora of fast food places will satisfy the American tourists. They include McDonalds, Burger King, Pizza Hut, Starbucks and Swenson's. Local variations (to suit local tastes) are that Pizza Hut serves pizzas with less cheese but additional dried chilies and McDonalds serves a rice burger (but no milkshakes). I was amazed a few years ago while in Pattaya to be stopped by a bunch of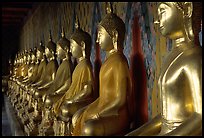 American sailors on R and R leave, only to be asked if there was a McDonalds nearby - they had just walked past a number of good Thai restaurants! I suppose that's what happens when you are shut up on board a ship for any length of time.
Part of the 'Thai experience' is to eat Thai food otherwise you may as well stay at home and watch the Discovery channel. Thai food is unique in its flavours and is fast gaining popularity throughout the world. Don't be scared of eating at roadside stalls - they serve some of the freshest and cheapest meals to be found. I am dumbfounded by the people who refuse to eat at these places (where you see the food prepared right in front of you) but will eat in restaurants where they never see the kitchens (which could have rats, cockroaches and any number of other unhealthy things - including the chef).
Seafood is cheap and plentiful in Thailand and if you love tiger prawns, lobsters, fresh fish, crabs or shell fish you'll find yourself in gourmet heaven. Even when you are a long way from the sea (i.e. Chiang Mai) there is still a plentiful supply of fresh seafood as much of it is farmed in ponds nearby.
NOTE: If you suffer from dyspepsia or stomach ulcers, go light on the chilies and spicy foods. They can play havoc with your digestive system.
Like any foreign country, it always helps if you know a few words of the local language. Most Thai people speak some English (particularly in the tourist areas) but it always helps to be able to say 'Hello', 'Thank you'. 'No Thank you', 'Please', etc. in the local language just out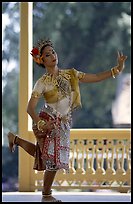 of politeness.
To the foreigner (or 'farang' as the Thai's call us), the Thai language can be somewhat confusing. First it is a tonal language (having five tones - high, low, rising, falling and neutral). The Thai's also have the habits of mixing up their L's and R's and of leaving the last letter off the end of words (the area of Korat is often pronounced Kola). In addition to this the Hilltribe people in the north all have there own languages, while in the Isan area (down the north-eastern side of Thailand) they tend to speak Lao (or Laotian - as they are on the border with Laos). My wife speaks Lao as her first language, Thai as her second language and English as her third!
Fortunately, there is an excellent site out there to teach you the basics. It's written by a Thai teenager called Gor with the help of his school friends and contains not only lessons on how to read, write and speak Thai but also stories from Thai life so that you can get an introduction to Thai thought and culture. This site is full of information and comes with a 5 star recommendation from me! Take a look now by clicking here.
In Bangkok, Chiang Mai and some of the other larger cities you will find that the easiest and cheapest way to get around is by 'tuk tuk', a small three wheeler powered by a motor bike engine that is capable of carrying two people (plus the driver) - the name comes from the sound they make! Note that is always advisable to negotiate the fare before setting off.
For longer journeys, take a songtaew - literally a small covered truck with two rows of seats in the back. These are to found all aver Thailand are usually good for 30 - 45 minute journeys. Very similar (in function) to the 'jeepneys' of the Philippines but not elaborately decorated. Don't be surprised if your songtao is full and the driver stops to pick up another dozen people (who will climb on the roof or
hang off the back).
Buses come in different flavours. Local buses are cheap and are adequate for travel between adjacent towns. They are uncomfortable and non-air conditioned. They also cater for Thai people who are generally shorter than farang's so don't expect too much leg room. If traveling further, then get an air conditioned or VIP bus - which usually have reclining seats, a toilet and drinks available.
Trains are usually slower than buses but have certain benefits. If you need to travel a long distance, get an overnight sleeper as they are comfortable, you can sleep the journey away and you reach your destination refreshed. (You also save on a night's accommodation). My wife and I regularly travel by first class sleeper - not expensive and very convenient. Check out the link to Thai Railways (above-left).
Flights are provided, in the main, by Thai Airways and Bangkok Airways - although budget airlines are beginning to appear. Bangkok Airways has built up an impressive flight network over the years and offers a very good service to most parts of Thailand. Check out the links for schedules.
Motorbikes and cars are available for hire in most locations. Bear in mind that driving standards probably aren't as high as in your own country and caution must be taken at all times. An average of two farangs die each week in motorbike-related accidents on Koh Samui during December/January.
Any attempt at listing things to see would be superfluous; there is just too much. Go out and buy a good guidebook. Having said that, there are a few things worth noting:
| | |
| --- | --- |
| | Thailand is, in the main, a Buddhist country and it is well worth visiting one or two of the thousands of wats (temples) to be found. It depends on where in Thailand you are but Bangkok (despite its traffic jams and polluted air) has some fine examples to see. If you only see one, then visit Wat Pra Keo (which contains the Chapel of the Emerald Buddha) and the Royal Palace. Don't forget to dress appropriately (no shorts) and to take your shoes off before entering a temple. |
| | Thai's are famous for their handicrafts and fine examples are found everywhere. The north (around Chiang Mai) is a good area to see authentic craftwork being carried out - anything from furniture and fine woodcarvings, hand painted umbrellas, pewter ware and local artists artwork to wonderful handmade silks. |
| | Head for the islands south of Bangkok for good beaches. Phuket is more up-market than most others and has several excellent golf courses. Koh Samui has just about lost its back-packer image and now has a golf course of its own together with a wide variety of resorts, hotels and bungalows. There are, of course, many more islands (some more developed than others), and it's up to you where you head for. |
| | Ever fancied scuba diving? Many places on the islands offer beginners courses while the experienced diver can hire equipment and join a group for anything between one and five days, diving in some of the best conditions to be found for the money. |
| | Take an elephant ride - an interesting way of sight seeing. Many places now offer elephant rides along jungle trails presenting a different view of the surroundings. |
| | Visit a snake farm or crocodile farm. You can watch the snakes being milked for their venom at Bangkok's Pasteur Institute. |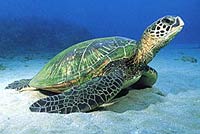 Again, any attempt by me to try to list the gamut of entertainment available would be wasted. However, a few things are worth mentioning:
| | |
| --- | --- |
| | Eating out at a good restaurant is (for me) an entertaining experience. Many venues also offer shows that range from tasteful Thai music and cultural dancing to (equally tasteful, I am told) transvestite song and dance shows. Don't laugh! According to Buddhist thought, transvestites are paying for their past sins and (hopefully) will be born a complete man the next time round. There are many transvestites to be found in Thailand and they are accepted as a normal part of life and the community. |
| | Bars are plentiful and most are populated by girls offering various services. At the simplest level they will talk to you and engage you in a range of bar games while you drink. I have spent endless hours engaged in this kind of activity and it's a harmless, pleasant way of passing the time - and certainly better than sitting in your local pub/bar back home. |
| | On the other hand, many of the girls are available for sleeping with and, if they deem you acceptable, will go with you for an agreed charge. Prostitution is seen as an acceptable profession in Thailand (although officially illegal) and many of the girls support their families through the 'work' they do. Many are relatively uneducated (but very street smart) and stand little chance of getting what we would term a 'respectable' job. Treat them with respect and the majority will respect you. |
| | Not to leave the ladies out, many go to Thailand to find a male companion during their holiday. It is not uncommon to find a farang lady with a Thai man. |
| | For the others amongst you there are homosexuals, bisexuals and lesbians available - but I'd rather not talk (or even think) about that, thank you! |
How fat is your wallet, how large your bank account? You can shop till you drop for all manner of things be it ethnic produce, top name goods or some of the excellent fakes that are sold (ranging from clothes and accessories to watches and perfumes). In the end it all boils down to what your tastes are, what you want to take home with you and how deep your pockets are/handbag is. If you enjoy shopping you will love Thailand.
Overview The People Accommodation Food Language
Getting Around Sight Seeing Entertainment Shopping
This site is a member of WebRing.
To browse visit Here.