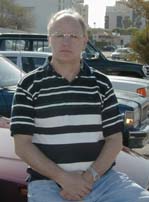 Welcome to my Home Page. I am from England and have spent 22 of the last 24 years working overseas - including spells in Brunei, Abu Dhabi, Kuwait and (currently) Oman, where I work in training design. I consider myself fortunate in having been given the opportunity to travel and to meet so many people of different races and to have sampled their cultures.
There is no specific theme to this site (i.e. hacking, knitting, the sex-life of gorillas or bagpipe playing). This is about what interests me (selfish, I know); I hope that some of these things will interest you as well. Take a browse around the pages and the various links then come back to the Home page and send me some feedback - it will prove that somebody out there is really reading this and that my efforts have not been wasted.
What can you find on this site?
The Food Page - Links to the best food recipe sites that I have so far found on the Internet. If you are into food and cooking, this is the place to look - and if you know of any better sites, send me an email and I'll include them.
The Thailand Page - Everything you ever wanted to know about travel in Thailand - either on the page or through the many links.
And coming soon.......
The Trivia Page - Anything goes on this page. It contains hours of endless fun (provided that you are as weird as me)..
If you continue further down this page you can send me an email, sign my guest book, check out the daily cartoon or send an e-card to a friend. Further things will be added to this site as and when my wife gives me time/permission!